Working while in college can be a great way to help pay for expenses. To find the best part time jobs for students, look for options that are flexible and convenient with your school schedule.
Think about on-campus jobs, paid internships, or freelance positions that fit with what you need. College is expensive, so many students have to work part-time jobs with flexible hours in order to make ends meet.
These may include child care, food service, and more. Working over the summer can also help build up funds for when school starts back up again. If money is tight and you need extra cash, a part-time job might be the perfect solution.
What types of jobs can a college student get?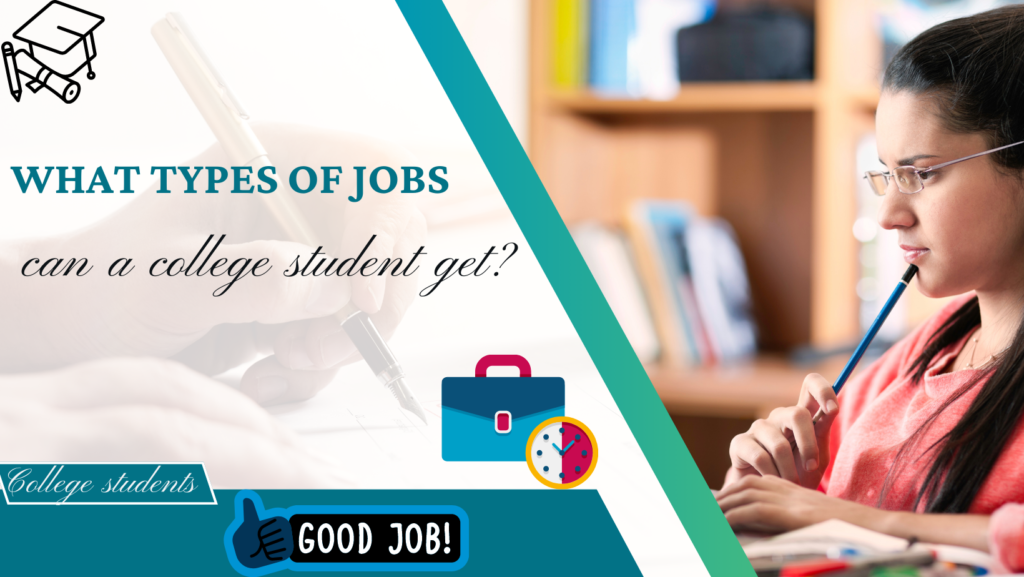 College students have many job options to choose from. They can work in restaurants, food service, retail, administration, and childcare without needing a college degree. Furthermore, there are positions specifically designed for students such as writing about college life for publications or being an on-campus brand ambassador.
Before choosing a part-time job, outline your criteria
Before looking for a part-time job, think about your criteria & how much free time you have each week for work. Make sure you don't take on too much work that will interfere with your school schedule. Set clear expectations for yourself regarding working and studying hours, so you can maintain a good balance between work and life.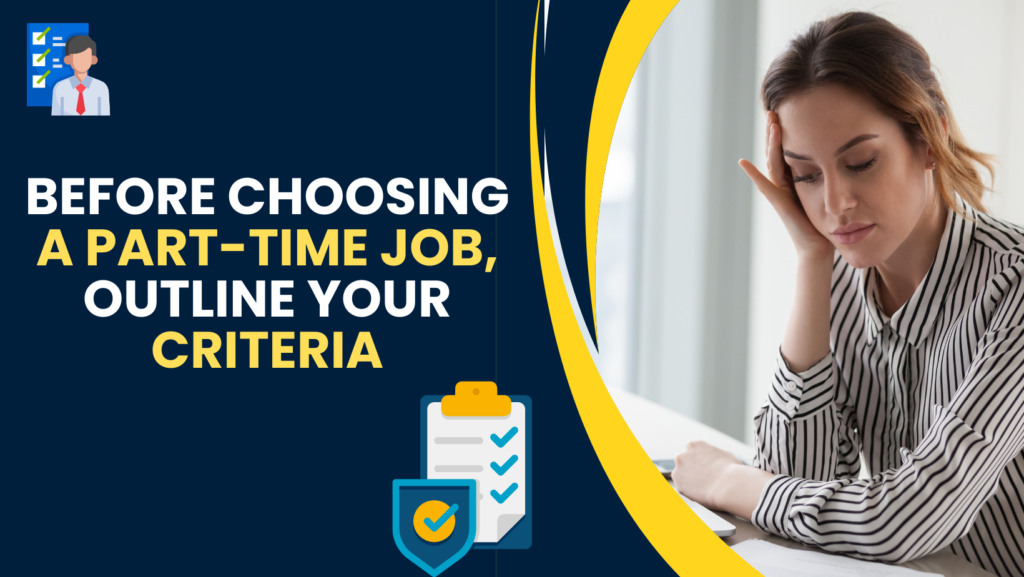 Negotiate the amount of hours you work
When interviewing for a job, be sure to communicate any changes you anticipate in your schedule due to your curriculum. Additionally, ensure that you have time for social activities in your weekly plan so that you maintain a healthy work-life balance.
When discussing personal time off, let the employer know ahead of time if there are holidays, school projects, or other important events planned. Notifying them early will create an atmosphere of respect and understanding.
Set expectations for pay and benefits that are realistic
According to ZipRecruiter, the average annual pay for part-time college student jobs in the United States is $36,824 per year as of March 2022. This works out to $17.70 an hour, $708 a week, or $3,069 a month.
Most of these jobs are entry-level and don't require much experience but you can ask for a higher salary or hourly rate if you have relevant experience.
Additionally, check your local laws to find out what benefits may be available to part-time employees such as health insurance and paid sick leave.
Be aware of where you are
Look for student part time jobs that are nearby your home or school so you don't have to spend a lot of time commuting while in classes. If you drive a car, it'll give you more freedom to travel around the area. However, if you rely on public transportation or ride a bike, finding employment close by will make it easier on your time and energy.
Is it beneficial for students to have part-time jobs?
Part-time jobs can be beneficial for students, providing them with extra money & work experience. However, whether or not a part-time job is suitable depends on the individual's circumstances. It is important to evaluate the commitment required and how it will fit in with college life.
Before deciding whether to take a part-time job as a college student, consider the hours of the job, how physically strenuous it is, and your current course load and class schedule. Your studies should be your top priority, so try to avoid a part-time job that could hinder your academic performance.
What are the benefits of having a part-time job while in college?
Having a part-time job while in college demonstrates hard work. It helps build important skills, such as time management, communication, and problem-solving, that can be transferred beyond the workplace. College is a great opportunity to explore interests & fully prepare for a career by expanding one's resume and character. Working also allows financial independence.
A part-time job can be a great solution for college students who need extra money or a break from their studies. Grants & loans often don't cover the full cost of tuition, so having part-time employment can help pay for higher education expenses.
High school students can save for their future goals such as college, a car, or a house. A part-time job is a great way for them to explore their career interests, gain valuable work experience, and meet new people. Here are 13 potential part-time jobs for high school students:
Tips for Students and Part-Time Job Seekers
Students can look for part-time job opportunities on their college campus.
Students can work in the cafeteria, or library, or help with administrative tasks.
One can also look for jobs close to colleges or where they live in order to reduce travel time.
Students who are already working can discuss with their peers and they can join the same workplace.
Part-time employment is a great opportunity for students to gain experience & earn money.
Students have a few options for work outside of their college premises such as an amusement park, grocery store, mall, showroom, restaurant, fuel pump or even working from home.
Students have plenty of opportunities available to them.
Are there part-time jobs available online for students?
Students can find online part-time jobs to do remotely, such as tutoring for the SAT or ACT and editing college admissions essays. Students who enjoy writing may be interested in writing for the "student life" sections of online magazines. These sections cover topics such as dorm life, student fashion trends, prepping for college, and more. There may also be other part-time online writing & editing jobs available to students.
Examples of part time jobs for students
Look for a part-time job that accommodates your college schedule and provides experience and income while you finish your degree. Find an employer who is understands of your college student status.
Positions located on a college campus
Working in an on-campus position can give you the opportunity to collaborate with your fellow students and develop valuable professional connections. Additionally, because of the flexible hours based on your class schedule, an on-campus job is an ideal choice for balancing work and school.
Library associate: Library Assistants help libraries run smoothly by organizing library materials and helping people find books and other resources. They typically earn around $13.24 per hour, which is slightly higher than the national average of $13.18 an hour. Students passionate about literature may enjoy working as a Library Assistant.
Tutor: If you scored well on the SAT or ACT, you can make money as a tutor for high school students. College prep services offer in-person & online tutoring, & according to the Bureau of Labor Statistics, tutors earn a median wage of $21.31 an hour. If you're interested in tutoring, research remote or local services near your college for after-school & weekend sessions.
Campus tour guide: Campus tour guides provide prospective students with a tour of the university. The job offers flexible hours, making it ideal for students wanting to stay on campus & avoid commuting. To be successful, tour guides should be friendly, speak positively of the campus, and be able to answer questions. This position can also provide work-study credit which can help cover education expenses.
Teaching assistant: The hourly rate for a teaching assistant is $11.85.
Campus Ambassador; The hourly rate for a Campus Ambassador is $10.94.
Resident assistant: The hourly wage for a resident assistant is $13.24.
Retail and marketing jobs
Retail jobs can be found both in-person & online. Working in a brick & mortar store provides valuable interpersonal & workplace skills. An online job, on the other hand, equips you with technical abilities like business analysis that can make your resume stand out when looking for a career. Social media is becoming increasingly important for companies to expand their reach, so those with content creation skills on platforms such as YouTube or Instagram should consider applying for social media management roles.
If you like to be in front of a camera and help promote products, consider applying for a brand ambassador role. It pays an average of $17.23 an hour and is a great way to get experience in marketing, entrepreneurship, or advertising. If you have lots of followers on social media platforms, try reaching out to companies' marketing or advertising teams offering your content creation services at your own rates. This will take more effort but can help you make money & build up your online presence.
Jobs in the food service industry
Working in the food-service industry, such as restaurants, cafeterias, and catering companies, can be rewarding as you may receive tips on top of your hourly pay – especially during busy times & holidays when your income could be higher than usual.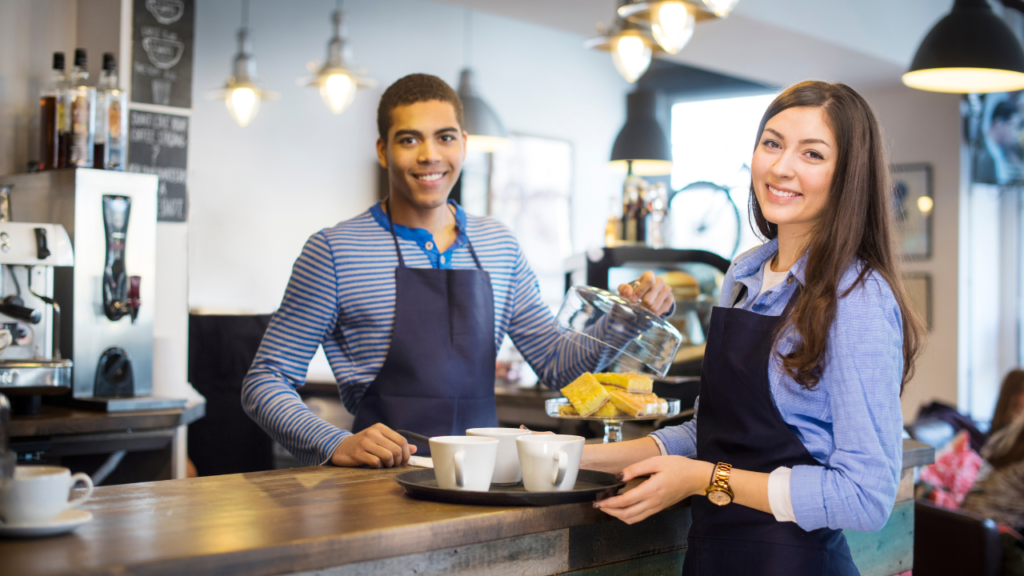 Barista: If you enjoy your morning cup of coffee, you may want to consider getting a job as a barista. Many college campuses have coffee shops where baristas work during the day, so you don't need to worry about feeling too tired to go to class the next day. You should also find it easy to get hired as a barista since there is so much demand for them. The average pay is $11.59 per hour.
Restaurant server: Restaurant servers & cashiers are in great demand, according to the BLS. If you're looking for a job that pays a competitive wage & allows you to make generous tips, this is your chance! Being a server is an excellent way to learn on the job & get free food or discounts at the restaurant. Although it may be physically demanding work, good servers can expect bigger tips. Plus, serving jobs usually offer flexible shifts so you can work around your studies or exams.
Restaurant host: The hourly rate for a restaurant host is $11.06.
Bartender jobs: The hourly rate for a bartender, including tips, is $11.74.
Being a Summer Camp Counselor
Consider becoming a camp counselor for a fun summer job! You won't have to worry about it interfering with your studies, as it is only seasonal. There are different types of summer camp counselor jobs available, such as day camps, sleepaway camps, and themed camps. Working as a camp counselor could allow you to teach your campers activities ranging from theater to kayaking
Recreation workers earned a median hourly wage of $14 as of May 2022, according to the Bureau of Labor Statistics. Additionally, some sleepaway camps may provide room & board for the campers during their stay.
Paid internships
You can make the most of your part-time college job by taking on a paid internship. These internships are typically during the summer and can help you build your resume by giving you relevant experiences. Doing a paid internship in addition to your regular part-time job can also help support you for the rest of the school year.
A paid internship can be beneficial in many ways; it can provide powerful references for your resume, potential full-time employment opportunities, a higher-paying job after college, and new skills to take with you into your career. Additionally, showing initiative and drive through a paid internship is highly valued by employers.
Some tech companies use internships as part of their recruitment process and provide generous salaries. According to a 2022 report by Glassdoor, some internships offer wages up to $8,800 a month. Facebook, Amazon, Microsoft, Apple & Adobe are the top companies offering the highest-paying salaries for interns in 2022.
You can find paid internships beyond the computer & technology fields with local businesses, financial institutions, and government organizations. These positions will give you the chance to develop new skills, grow your resume, and earn money to help pay for college.
Editing essays for college admissions can be a great job opportunity for college students. Show your clients that you were successful in getting accepted into the college of your choice by letting them know that the essay you wrote was strong. This will give them more assurance that you can help them do the same.
Editing essays can be done from anywhere, and editors can make a good income from it. To get started, you could post ads online, at local high schools, or look into tutoring companies.
Writer of Online Lifestyle Content
If you're interested in writing for a blog or magazine that targets college students, try pitching your ideas to "campus life" websites.
You can earn money by writing about topics related to college, such as dorm life, your major, and jokes. You will be paid for each piece you write & have the freedom to decide when you complete them, so long as you meet the deadlines.
Freelancing 
As a college student, you can benefit from the "gig economy" by taking on part-time jobs with your own flexible hours. If you're creative and have a skill like painting or knitting, consider selling your work at local artist markets or online. Alternatively, if you have experience babysitting, cleaning, or pet sitting, set up your own small business & monetize it.
Babysitter: If you love being around kids, babysitting could be a great job for you! Pay typically ranges from $16.13 & up, depending on the number of children and duties. It's an ideal gig for students since the most demand is usually in the evenings. To find out if anyone in your area needs a babysitter, ask around & mention any experience you have.
Pet sitter/dog walker: Pet sitters earn an average of $15.23 per hour nationally and an annual salary of approximately $38,394. The primary duties involve taking care of animals while their owners are away, such as making sure they get enough food and providing them with entertainment. This job is ideal for animal lovers who need a way to destress from their studies. Income may vary depending on location, experience, and hours worked.
Social Media Assistant: Social media assistants are marketing professionals responsible for managing a company's online presence. They develop content and campaigns to increase engagement with their audiences. This would be an ideal job for tech-savvy people who like spending time on social media platforms. The national average salary for this role is $13.69 per hour.
Rideshare driver: The cost of a rideshare driver depends on the time and location of the ride. Generally, it is around $19.00.
Private tutor: The hourly rate for a private tutor is $21.31.
Administrative Temporary Worker
Temp agencies provide administrative temps for short-term jobs such as reception and data entry when regular employees are not available. Flexibility is key in this type of work.
Administrative assistants earned a median hourly wage of around $19 in May 2022, according to the Bureau of Labor Statistics. Temps may be paid slightly more or less. Working as a temp can be a great opportunity for students during their spring or fall breaks, allowing them to gain experience in an office environment.
Brand Ambassador
As a Brand Ambassador, you are the face of a company and your job is to increase brand awareness and boost sales through various marketing tactics. The national average salary for this role is $17.16 per hour, making it an ideal position for students to gain experience working with customers.
Home Health Aide
Working as a home health aide may be an ideal job for a college student who desires meaningful work and compensation. Home health aides provide vital assistance to seniors and individuals with disabilities, including performing everyday activities and administering medications.
Home health aides earned a median of $14 per hour in May 2022, according to the Bureau of Labor Statistics. Being a home health aide is a good way to get experience in the medical field and help people in your community.
Where can I get a part-time job as a student?
If you are a college student searching for a part-time job, your campus is an ideal place to begin. Job postings can be found online or in person, and there may also be on-campus job fairs hosted by the college.
Ask about the terms of employment during the interview process if you are applying to a smaller employer. You can also search for part-time jobs online on company websites or job search sites such as LinkedIn.
Should I Work While I'm in College?
Deciding whether to get a job while in college depends on you. Consider your financial situation and how it could affect college expenses. Different jobs have different time requirements. If you have a busy schedule, you might want to work during breaks or the summer, rather than working part-time and attending classes at the same time.
Consider these factors when researching a college job:
The advantages:
You can use work to get extra money for spending.
You can get job experience while you are in school.
A college job can help you gain an understanding of potential careers outside of the academic setting.
The disadvantages:
Studying can be disrupted by work hours.
Having a degree can make it easier to find well-paying jobs.
Managing two sets of duties can be mentally exhausting.
Overview
To make the most of your time between college & work, align your interests or field of study with a job. If you are in school studying business, look for positions at local businesses to gain practical experience that will help you in the future. This will help you grow your technical & interpersonal skills.